Ibiza is one of a kind for your versatile holidays.
From green fields and exciting hills to cruise through by bike, to the most beautiful bays with spectacular turquoise waters with cute little beaches.  Ibiza really has it all.
If you are looking for some other entertainment during your holiday than cycling, hiking or sunbathing, we can recommend some of these activities.  They are suitable for the whole family and guaranteed to give you a great time.  We will also get into some options for restaurants, beach clubs, and parties.  A mix of which there is certainly no shortage on this small, paradisiacal island. We introduce you to some of our favorite spots.
Es Curralls Alpacas Ibiza
Es Curralls Alpacas Ibiza is the brainchild of the Belgian couple San & Bart. Years ago, when they first came into contact with alpacas and their wonderful wool, they started to dream of owning their own alpaca farm. In 2019 they made their dream a reality and moved to Ibiza.
The alpacas provide the couple with wool of excellent quality to use with their beautiful weaving creations, handwoven on a traditional wooden loom.
Get in touch for a visit: Info@alpacasibiza.com
https://www.alpacasibiza.com/en/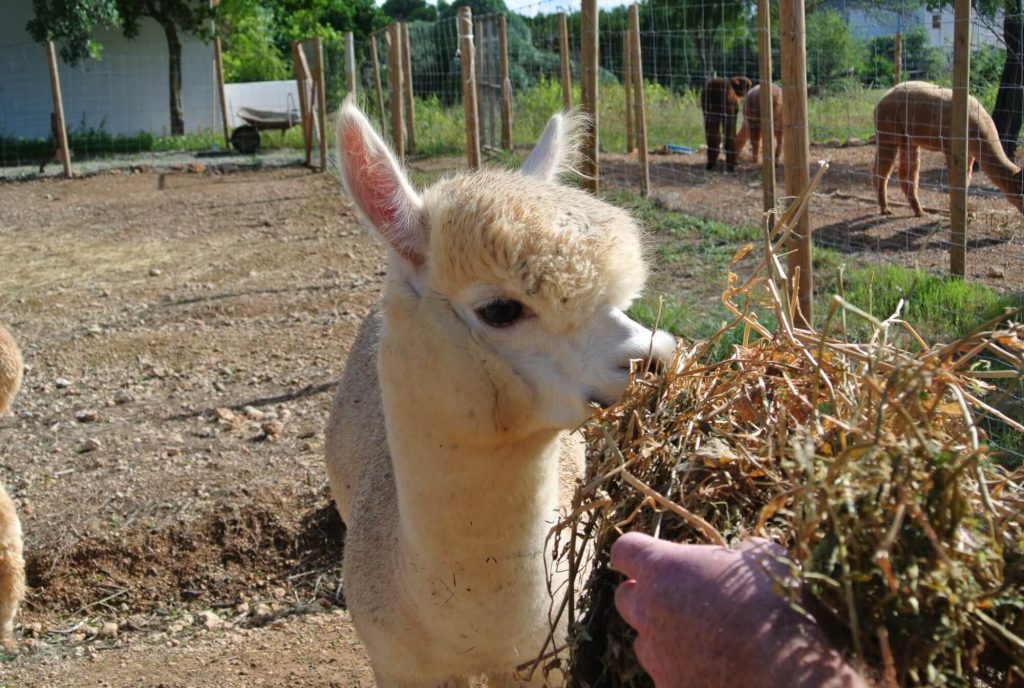 Ibiza Botanico Biotecnologico
This center is a multifunctional space dedicated to environmental care and biotechnological dissemination, located in San Rafael.
Come to know in one space the diversity of natural habitats of the Pitiusas Islands, the flora of Ibiza and Formentera, including endemic and extinct species in nature, get to know the latest in biotechnological innovation for nature conservation, such as the Photobioreactor for the cultivation of microalgae for application in food and much more.
https://ibizabotanicobiotecnologico.com/biotecnologia/
Cap Blanc aquarium
Often referred to as 'the Lobster Cave', Cap Blanc Aquarium is located in a large natural cave, which was once used as a nursery for lobsters, which were then exported to mainland Spain. Due to the quality of the water and the naturalistic environment, the cave is often used to house rescued sea turtles before they are released back into the wild.  From colorful fish, to sea sponges, starfish, shark eggs and other marine life, there is plenty to keep children entertained.
When you're done in the cave, there's a sea-front cafe on the terrace.
Check for visits: https://aquariumcapblanc.com/
Horse riding
Ibiza Horse Valley, in the north of the island, offers the chance to see forests, mountains and beaches on horseback, on either a half-day or full-day excursion.  It's a fantastic way to experience the island, and they accept riders of all levels, from complete beginners upwards, but you must be over 12 years old and weigh under 90 kg. They can also arrange customized trips with camping and swimming.  Active Ibiza is more suitable for younger children and inexperienced riders and offers packages where kids have an introductory lesson in the paddock before being led out on a short hack through the fields with an instructor.
https://www.ibizahorsevalley.com/

Acrobosc Ibiza Climbing Park
Acrobosc Ibiza is a fantastic outdoor adventure park with activities both for the young and old. Set in an area of pine trees just 100 meters from Cala Pada beach, there are 3 circuits you can follow, according to your height and age, putting your balance and skills to challenge. Thirty-nine platforms between 2-6 meters high, 49 obstacles and 20 zip lines from 4-65 meters in length, and trampolines will give you up to 2.5 hours of fun and adrenaline..
Located between Santa Eulalia and Es Canar.
RESTAURANTS IN SANTA EULARIA
Ibiza probably has enough restaurants for every day of the year. It is incredible how such a small island has such a wide range of restaurants.  If you are looking for a few nice places to eat during your stay in Santa Eularia, then these restaurants are definitely recommended.
Deseo: nice, low key restaurant with sea view, Mexican cuisine, and good cocktails, located on the Santa Eularia promenade
Mar y tierra : excellent fish & seafood restaurant, sourcing their products from  Ibiza's fishermen, whenever possible. The owners' passion for food is also reflected in their selection of the highest quality of products and that leads to the 5-star plate they put in front of you.
https://www.marytierrasantaeulalia.es/es/
Hambre : Incredible gastronomic experience. There is a lot of work on every plate, full of flavors.  Good food, excellent vibe, and attentive service! The food and products are fresh and the menu has new items every day. The chefs explain in detail every plate at your table. A really good shared dining concept with a fresh and creative look on the everyday changing menu!
https://www.hambrerestaurant.com
Sa Carboneria : authentic Spanish meat restaurant with a lovely cute garden terrace in the back.
The perfect place for when you are in a 'meaty mood'.
https://www.sacarboneria.com/en/ibiza-steakhouse-and-garden/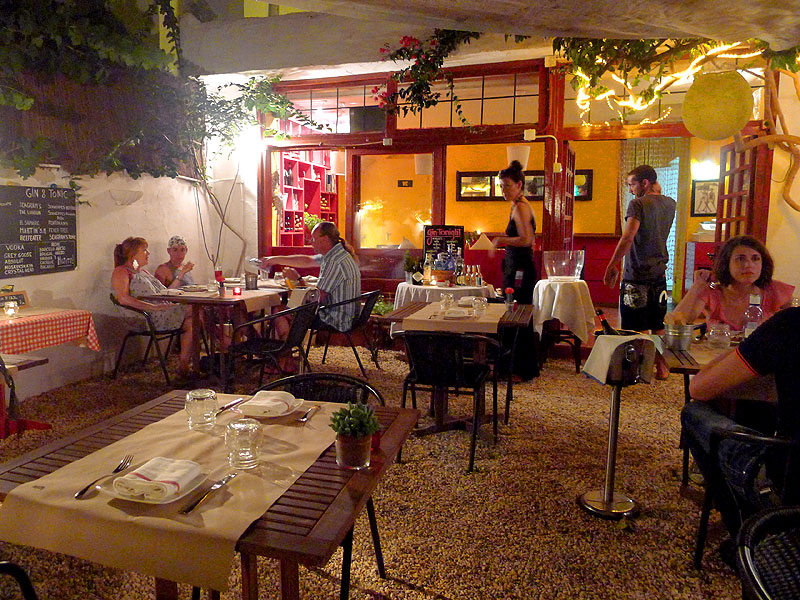 San Martino: this popular Italian restaurant is located on the Santa Eularia promenade and serves fresh and healthy Mediterranean products with authentic traditional Italian recipes.  The best secret homemade recipes like grandma used to make.  Go for authentic pizza, tasty pasta, colorful salads, and delicious desserts.
https://sanmartino-ibiza.com/es/
Utopia: wonderful food and simplified menu enable perfection of a handful of beautiful dishes. Red paella, codfish croquettes and steak are all highly recommended.  Cozy and intimate setting, amazing food experience guaranteed with fantastic service.
https://www.instagram.com/uttopiaibiza/
Casa Kica
This restaurant used to be called Punta Carretas, a bbq/meat restaurant on the way to hippy market Las Dalias . Since July 2021 it became Casa Kica, a concept store/ restaurant and completely restyled, by the same owner as of the restaurant 'Es Caliu'.  Decorated with warm materials and lots of boho accessories, creating a cozy and welcome atmosphere.
Cuisine: Mediterranean, light, and healthy with good value for money
Higo
Nikkei or in other words: japaruvian, is grounded in centuries of culinary history, weaving the influence of Peruvian and Japanese cuisine.  Using the finest organic ingredients cultivated in the restaurant and seasonally inspired produce, this place offers an exciting, fresh interpretation of Nikkei dishes. Expect a wide range of culinary creations for everyone, including lots of vegetarian options.  This new restaurant opened its doors in 2021. It is located on the promenade in Santa Eularia with a view to the harbor.
https://www.restauranthigo.com/
Some other nice places for cozy table moments with friends or family outside of Santa Eularia
NORTH OF THE ISLAND
Rebrots
This hidden gem came to life in 2019 and is owned by the same owner as chiringuito Cala Xuclar. This bohemian beach restaurant with warm colors and 'Ibiza decoration' creates an intimate and cozy atmosphere. Perfect for nice lunches and dinners with a view of the beach and the sea.
Cuisine: a good mix of Mediterranean-style dishes and world cuisine.
Location: on the beach of Arenal Petit in Portinax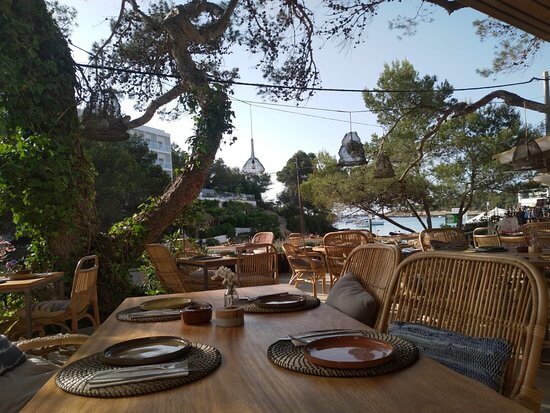 LYDIA´S "smoke House"
Lydia's is based on the US's endless roads where travelers can find plenty of varied American food.
Food is based on the finger food classics of the '70s and '80s, following and respecting the traditions of the people who invented the recipes and created the cooking methods.  The owners opened this new restaurant in the North, after the success of the first restaurant in the center of Ibiza town.
They specialize in smoked roast meats & hamburgers. It's on Carretera de San Joan. Definitely one of the island's classic destinations.
https://www.lydiassmokehouse.com/
Can Guimo
If you haven't discovered this little paradise yet, it's time you do. It is located on the road to San Joan, a bit at the back.
This cozy small restaurant specializes in healthy and homemade food. They prepare everything themselves, with local and fresh ingredients. Most of their dishes are veggie and they also have vegan and/or gluten-free options.
The bright turquoise interior is decorated very nicely and their outdoor terrace is a peaceful place to relax for some hours. It has some beautiful colorful decorations and plants….the perfect place for a relaxed and healthy lunch.
SOUTH OF THE ISLAND
El Silencio
Remember Bagatelle beach bar on Cala Moli?  This restaurant has never been a success and has turned into 'El Silencio'.  It looks like the typical bohemian Ibiza beach restaurant and has an amazing sea view.  The restaurant also offers a pool area with sunbeds, a bar, and an indoor art area.
Cuisine: Mediterranean food & cocktails
http://www.elsilencioibiza.com/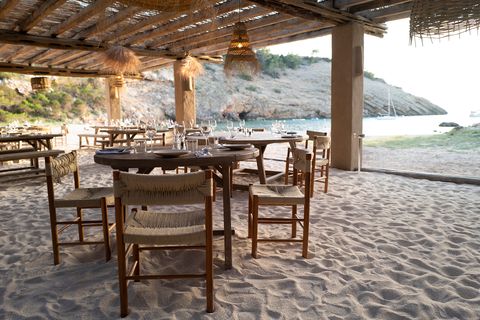 WEST OF THE ISLAND
Can Riku
This restaurant is the new healthy place to be since the summer of 2021.  The space has an open kitchen and you can see the chef at work.  There are some swings inside the restaurant and the atmosphere can be described as loose and lively.  It also comes with a nice terrace.
Cuisine: light healthy and delicious.
VILLA RENTAL
Bike Ibiza cooperates with a reliable provider of a wide range of villas on the whole island. If you are looking for a rental property for your holiday with friends, family or for a cycling holiday, please contact us for more information: eric@bikeibiza.be
KAYAK TRIPS
Experience the sensation of freedom by floating in the pristine multi-colored waters. The many beaches and the sea's magnificently colored sea make kayaking a must in Ibiza. Kayaking combined with snorkeling and cliff diving will expand your view of Ibiza. Highly recommended! The routes last around 3 hrs each. We make several stops along the way to jump from sea rocks or to snorkel and explore the rich coral.
Fill in the contact form for bookings and more information: https://www.bike-ibiza.com/activities/kayak-snorkeling/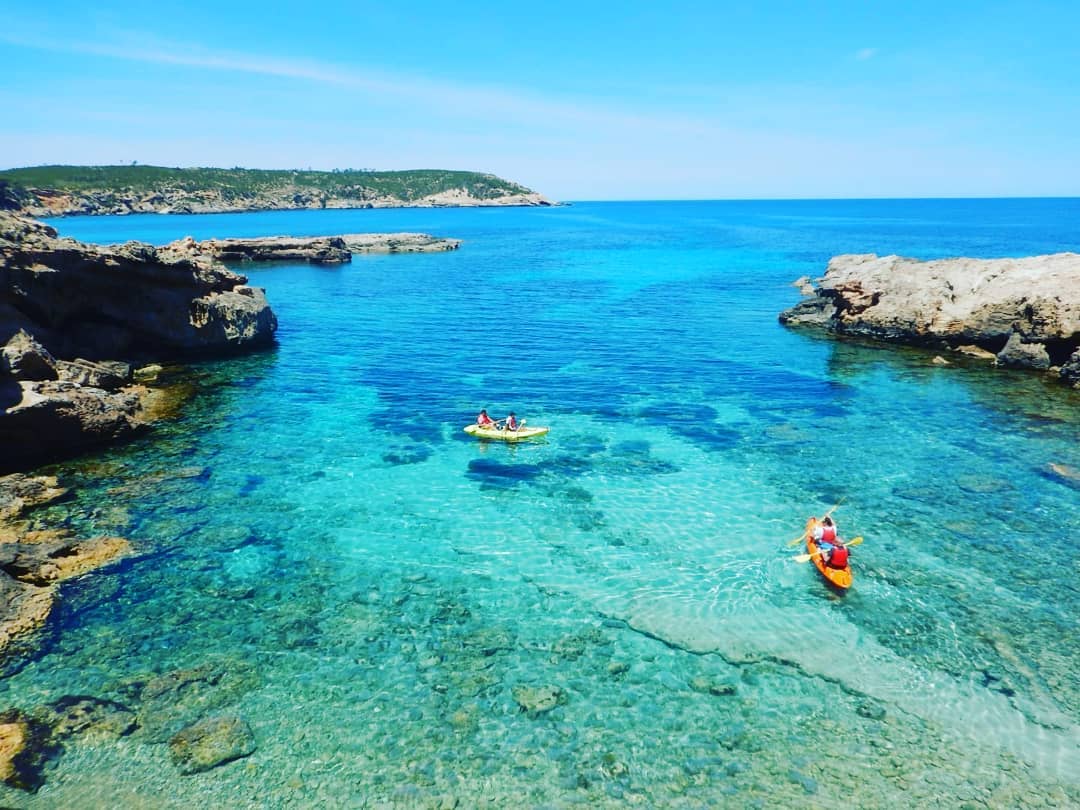 BOAT RENTAL
Spending time on a boat during your Ibiza holidays is always a good idea.
Want to make sure you book a boat without hidden costs?
Book your boat with Bike Ibiza for a pleasant and smooth booking process.
We will make sure you do not get unpleasant surprises. You will rent the whole boat and we will help you with the selection of the most suitable boat for your group. Beautiful and lasting memories are guaranteed!
Get in touch for more information: https://www.bike-ibiza.com/activities/boat-excursions/boat-hire/
BEACHCLUBS
Beachclubs/restaurants & nice places for relaxing, enjoying, a cool drink or a few cocktails.
Aiyanna Ibiza
Aiyanna Ibiza is pure 'boho chic'. Gorgeous sea views, paired with the natural style of the restaurant and colourful parasols.  Either lounge and sip on a cocktail or try its diverse menu that takes in much of the Mediterranean. More than enough to keep you satisfied until the sun goes down. Located on Cala Nova beach.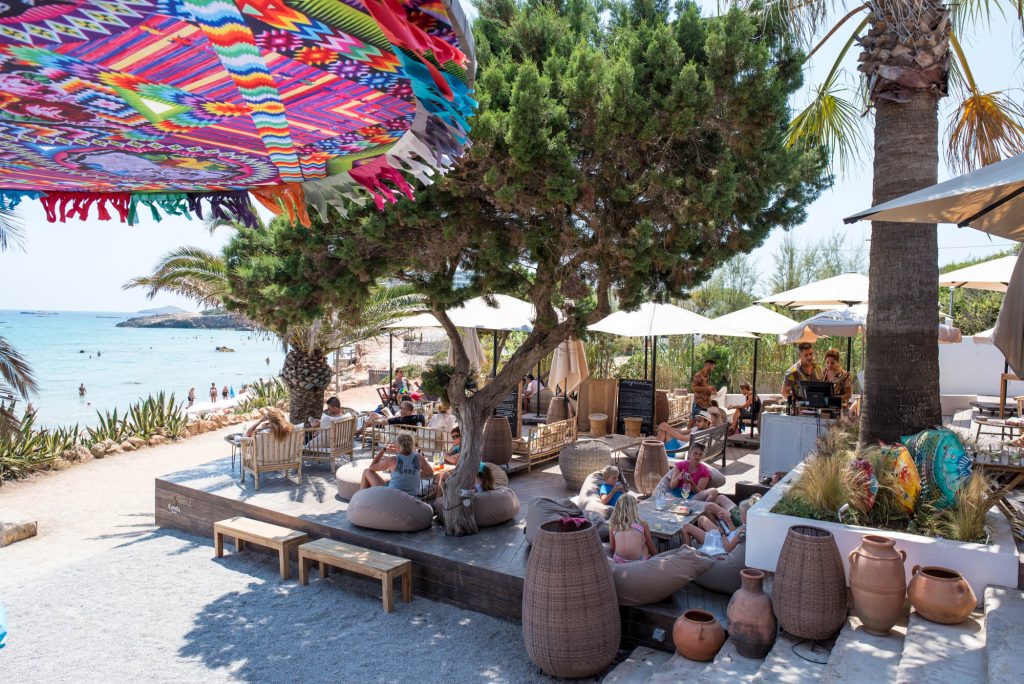 Sa Trinxa
At the far left end of Salinas beach lies the true hippy spirit of Ibiza in the shape of the iconic Sa Trinxa beach bar and restaurant. The real beach dwellers love to stay until after sunset to sip on beers and soak up the good vibes.
Amante
Amante has arguably one of the best beach club settings on the island, tucked away in its own cove. By day it offers luxury day beds before turning into the perfect evening location for a romantic dinner. Serving ultra-fresh and vibrant Mediterranean food, the restaurant allows you many ways to enjoy the beautiful views as you listen to the waves crash on the beach.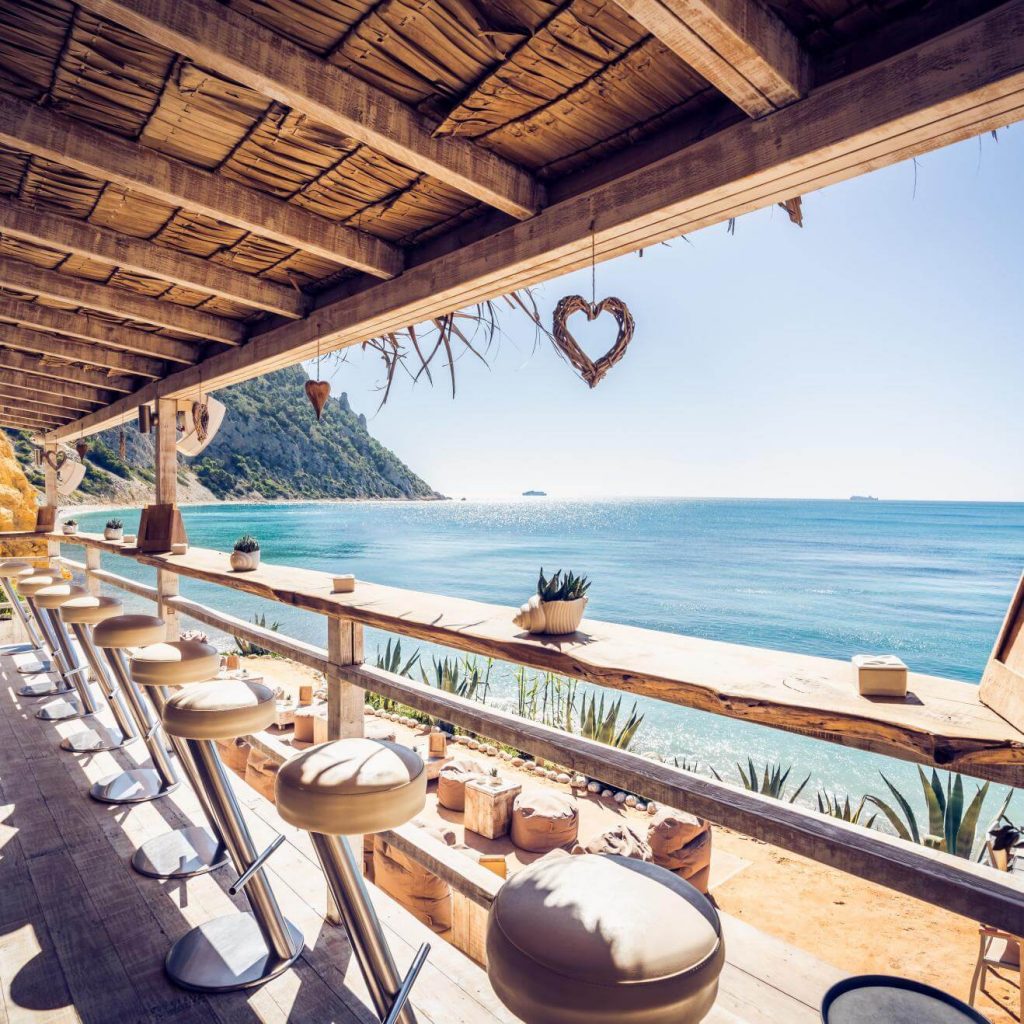 Chiringuito blue
For a luxurious yet relaxed beach club experience, head to the far south end of the promenade and you will encounter the rustic chic Chiringuito Blue restaurant, nestled next to the sand. Here you can dine in style on dishes made from fresh local ingredients in the cool and colourful surroundings, with the sea sparkling in the deepest colour blue right in front of you. Located in Santa Eularia.
https://www.chiringuitoblueibiza.com/
Soulgood
Near Niu Bau beach there's a little restaurant where you can enjoy the view, relax, eat delicious soulfood and listen to good music. This is the place to be. They make the best ginger drinks. Enjoy the peace and the sea view from this cute bar with its relaxed atmosphere.
Sunset ashram
Iconic beach restaurant located in the lovely bay of Cala Conta beach. This place looks like something out of a dream. This is the place to be to enjoy a breathtaking sunset. You have options of table seating, sea facing bar seating, loungers and chill spots further down into the beach.
http://www.sunsetashram.com/en/
PARTIES
Akasha las dalias
Apart from the well-known discotheques such as Hi, Ushuaia, Pacha, Amnesia and Privilege, there are also a few smaller parties on the island. New is Akasha , the revamped indoor venue of Las Dalias, the famous hippy market in San Carlos.
Akasha * Las Dalias Club* was born to welcome great artists from the local, national and international scene.
Akasha in the Sanskrit language means ether, sky, and sound. Moved by these references, they created a club concept where the intention is to generate a community spirit among the people who visit Akasha.
OPENING HOURS: Fridays and Saturdays from 11pm, and Sundays from 5pm.
Namaste
This party takes place also in Las Dalias, every Wednesday evening.
The public has found in this party a place where time seems to stop and where everyone is welcome. Sounds from Africa, India, and Asia, with a bit of flamenco, reggae, and trance, envelop the audience in a unique atmosphere of world music.  Stepping into the Namaste experience is like entering the world of the Arabian tale a thousand and one nights.  The secret of Namaste is that it is a party that remains faithful to its origin and essence but also evolves every year with new musical proposals.
Do you feel the essence of the island?
See you soon!
Eric @ Bike Ibiza
For more information:
more info: eric@bikeibiza.be or +34627140824