Arrowed routes made by Ibiza travel: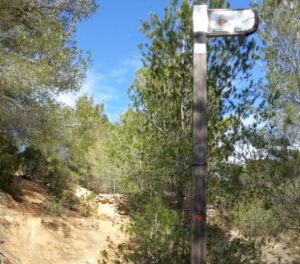 My first job for the government of Ibiza! Create a roadbook of the arrowed mountain bike and road bike routes. Unfortunately, they are still incomplete to this day, and more arrows are missing every year. Therefore the routes should download to a GPS. You can find all the courses in a gpx file on the profile of Bike Ibiza in Wikiloc.
I must no longer explain that it is fantastic to mountain bike in Ibiza & Formentera. There are a lot of dirt tracks that make it ideal for varied routes. We make the difference between wide, unpaved roads and single trails through the woods.
I have good news for mountain bikers who prefer not to ride with a guide. The government has outlined more than ten mountain bike routes over Ibiza.
These routes are only on official wide paths. They are worth it, and you will get a beautiful first impression of Ibiza. Prepare well and take extra water with you. Let us know how you experienced the routes. Lots of fun!
These routes are recommended:
From Santa Eularia:
Mountain bike route 11
Road bike route 18
For bike rental or guided tours: